Newspaper Headlines – "Jaguar Wins NASCAR race in New Jersey"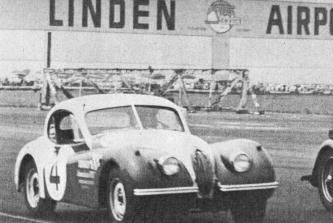 Article continues :
"Amazing performance by Jaguar driver as he wins by almost a full lap."
If that headline surprises you, it's no wonder. English cars don't enter NASCAR events. Never have…never will. Right?
Most people consider the first non-American car to win a NASCAR race would have been Kyle Busch in 2008 at Atlanta in a Toyota but they would be wrong. Get ready to win some bar bets. The truth is, the first foreign car to win a NASCAR race was from England and that particular race was held in 1954.
In1948, Jaguar debuted the XK120. That name was chosen because the car could be driven over 120 mile per hour making  it the world's fastest production car. This car was offered in three versions the OTS Roadster Convertible (Open Two Seater) and DHC Coupe Convertible (Drop Head Coupe) and the FHC closed roof (Fixed Head Coupe).  All models carried the 3.6 liter overhead cam engine. There were only 12,050 of these made between 1948 and 1954.
Al Keller entered his aluminum bodied ash framed FHC XK120 coupe in the "International 100" NASCAR race on June 13, 1954 at the 2 mile Linden Airport road course track. The field of competitors was made up of 43 cars – 21 foreign made and 22 domestic brands. 13 Jaguars, 5 MGs, 1 Morgan,1  Austin Healey and even a Porsche entered the race for a chance at the $5020 in purse money. Buck Baker took pole position in his Oldsmobile but once the race began he began fading quickly. Buck passed the lead to Herb Thomas in a Hudson while early greats like Lee Petty and Hershel McGriff battled close behind him.  When Al Keller took the lead in his XK120 Jag, he literally left the field in his dust. At the checkered flag,  the second place car was the only car on the same lap as Keller.
NASCAR continued to encourage foreign car involvement until 1958 at the Riverside Grand National Race. At that event, 2 Citroens, a Renault and a Goliath competed. The Citroens finished 18th and 19th, the Goliath posted a 27th and the Renault was a DNF.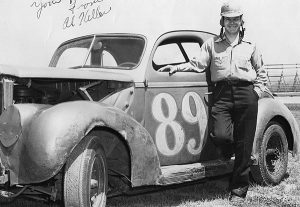 Keller went on to a successful career in AAA, USAC Champ cars where he finished in the top ten 13 times. Keller died from injuries he sustained in a Champ car crash in 1961.
Al Keller remains the only man to win a NASCAR race in an English car and the first to win a race in a non-American made automobile.