A Southern Northern Driver : Tara Knoll
Seven years ago,  I corner worked at a CCR solo event with a lady named Tara Knoll. Her passion for the sport was obvious then and what she has accomplished since then is impressive. She is one of our best lady drivers in the South and holds the title of "most infectious laugh" with those who have been around her.  She's a Virginia Tech grad and (bad news guys) is engaged to Michael Buck. While Tara has moved north to Maryland, we still proudly claim her as a Southern Driver!
Birthplace : Mahopac, NY. Now my parents live in Yorktown Heights, NY, where they have lived for almost 20 years.
Home : I spent 10 years in the south living between Blacksburg, VA and Danville, VA (I was a tire design engineer for over 4 years for Goodyear). Now I live in North East, MD.
Family/Pets: I do not have any pets because I am allergic and we travel too much. I am engaged (John Byrd knows and he's ok with it! ). Mike is my close family right now. In the last year, I have gotten my sister who lives in Baltimore into autocrossing too (finally!). She loves it and is addicted.
Profession : Hah, loaded question at the moment. I was working with Goodyear and in quit January 2011. They called and ask me to come back as a contractor and I came back in April. I was part time contracting back in Danville until November when they cut the budget. (I was under a budget that had nothing to do with what I was working on). Anyway, I am currently "looking" for a job up here and have some contacts I've developed and I'm talking to recruiters. So we'll see. Fisker also bought the old GM plant in the area and they're suppose to hire 2600 but they don't start production until 2013. But that would be a super cool place to work .
Cars presently owned : I still have my 2000 Subaru 2.5 RS. Our household also has Mike's 944 Turbo race car we HPDE and he races with PCA, an IS300, and a Tundra.
Favorite past cars owned : My 2000 Subaru 2.5 RS. It's timeless beauty. I'd love to do an STi swap in it at some point.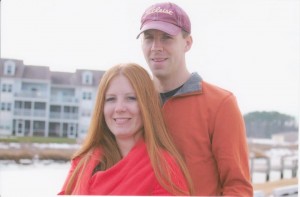 Championships/Titles/Offices held : My only trophy from solo nationals is when I placed 2nd in STXL in 2005. One day I will get a championship jacket. I have many other National Tour, Pro Solo, and Sediv wins and trophies. I don't keep a list.
Your favorite childhood memory involving cars: When we were younger my parents use to take us to Watkins Glen to see the GTP cars. They were so much fun to watch. We'd always attend the autograph sessions and go by Parker Johnstone's Acura Spice. He started to recognize our family over the years and was always very nice to us as a driver. I also have a framed poster from Johnny O'Connell with his 300zx which says "Tara, You can codrive with me anytime." Mike is always super jealous of that.
What you enjoy most about motorsports: I love the multiday formats of racing. It creates this social aspect that's special. It goes for autocrossing, track events, and spectating at professional events. There's nothing like grilling, having a few beers, and socializing at the track. I love it and I live for it.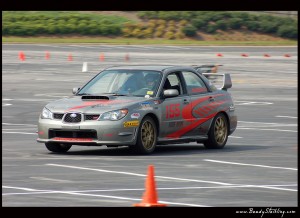 Advice to up and coming drivers : Seat time. Don't waste your time on modifying your car right away. I did most of my first year of autocrossing with my tread wear 400 mud and snow tires and cold air intake which classed me out of stock class. It just meant I had to fight that much harder to compete with everyone else. It makes you a better driver in the end.
Favorite professional driver past or present : I follow so many racing series I can't just name one.
Favorite road to drive : There were a series of roads we referred to in Blacksburg, Va as the "Tabor-ring". We took many cruises out through that area when I was in school.
Your future racing plans : Keep autocrossing. I want another crack at Solo Nationals before I have kids.
Anything you'd like to share about yourself, motorsports or experiences : I am thankful to my parents who have dragged my sister and I to races (sometimes kicking and screaming) since we were very young. To this day, we still go with them to see various races including Grand Am/ALMS/NASCAR, etc. And if they're not going, we'll go without them.
 Favorite story from your driving career : After I'd done my first half a dozen autocrossing events, I decided to attended the novice school with CCR in Fort Mills, SC. There, I met Steven Rankins. He had a blue Subaru 2.5 RS like mine, except more heavily developed. I had tread wear 400 mud and snow tires and a cold air intake. His car was prepped in DSP trim with race tires, suspension, sway bars, ecu, etc. Saturday was the school and sunday was the event. That Sunday after my competition runs, he told me to take out his RS. I was so nervous and excited because it looked really fast and sounded great! The experience was so eye opening and so much fun. To this day, I still remember the runs and how much fun I had.
Please keep us posted on career, future racing and life plans! Thanks for the fun and passion you put in our sport! You're living really close to that Mason Dixon line but …at heart, we know you will always be a Southern Driver!