Great days at the Barber with TRACKS UNLIMITED!

Back in August, The Southern Driver got the chance to experience Tracks Unlimited and their high performance driving program at Barber Motorsports Park. We sent TJ Theodore and his wife, Katie, along with a stock daily driver Miata to drive among other sports car enthusiasts who wanted to test the limits on one of America's most impeccable racetracks.
Katie and I were stoked to try out a Tracks Unlimited event for the first time. While I have been racing in SCCA with my CSP miata, for quite some time, my wife, Katie, had only been on track once prior to this event and her stock daily miata needed to make a trip to Mecca in order to establish itself as a true sports car. My hope was that she would be able to gain some experience, and comfortability on track through Tracks Unlimited instructors and the enormous amount of seat time that we had been hearing about from their typical track days. Each driver could get 3 + hours of seat time PER DAY.  With over 70 drivers each day this is a feat of magical logistics that UPS couldn't even live up to! I was looking forward to driving on such a fabulous track again and getting some real time learning the lines and mastering the curves. With that said, I must begin to tell you that our trip from Greenville, SC started out poorly. I lost one of my favorite hats to the wind that caught up with my forehead which stuck up just over the top of the windshield while driving down I-85. Any man knows the value and sentimentality of a good hat and this one had been mine for almost 10 years, resembling lots of memories at the track and good times with friends . But, so goes the convertible life, and as they say, "long live the roadster". We drove the rest of the way to Alabama on Friday night before the race and caught a good steak dinner before retiring at our hotel for the night.
In the morning, 7 AM came fast! We pulled up just in time to be involved in the driver's meeting that turned out to be super relaxed and even had some nice door-prizes for the drivers. The instructors and event organizers went over the track and rules for the event well and described the logistics for getting everyone plenty of seat time. Afterwards, Katie stayed for a novice meeting which paired instructors and students and went over basics of flagging, getting on and off track. I went through the technical inspection of the miata which was quite simple but thorough enough to know that they cared about ensuring you drive home in the car you came in.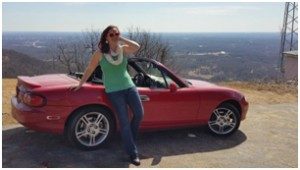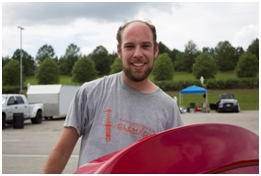 With plenty of time to get ready we checked out the paddock and got some excellent bacon, cheese and egg biscuits from the track food vendor. We found a place in paddock next to Julian Sullivan with his new Porsche GT3. I decided briefly that I was to own that car and somehow Julian and I would negotiate a trade so that Katie and I could drive it home. Katie wouldn't let me have it, and muttered something about the expense of owning it or being realistic about something, but all I heard was the sound of that muffler as it fired up for the first session on track.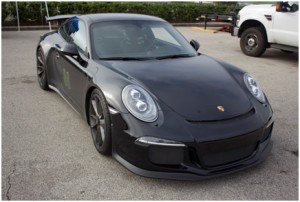 Julian had been to a Tracks Unlimited event before and unlike some people who garage keep their fancy supercars, he likes to take it out and drive it on the weekends. Katie and I do that too, so at least we had that in common with Julian if not the type of car that we drive.
Katie, who I thought was a little nervous, actually felt pretty confident getting on track for the first time that day. She took a few slower runs at first while getting used to the track and progressively got quicker and quicker with each lap. Wow, my wife can drive! We may just be able to really share this hobby after all. Even while dating, Katie has always been incredibly supportive of my expensive driving hobbies, so it's only natural that she enjoys being on track occasionally too. In talking with her after sessions, we quickly realized that the miata was a bit underpowered relative to the muscles being flexed by the likes of our neighbor Julian and other drivers with Corvettes, Mustangs, a Viper, and a few BMW M3s. Katie and I both got to practice point-by's a lot that day!
My turn on track was fantastic. Again, our little miata got passed a lot, but everyone was very chill and relaxed about it. This was not a competition and everyone was there to have fun and play with their street cars. The only competition going on was that of my own. There may not have been timed laps officially, but my GPS enabled phone running TrackMaster was plenty accurate enough to help me get better at driving around Barber Motorsports Park. Looking at clean laps, I successfully dropped roughly 5 seconds over the course of the weekend just by learning and relearning the turns, trying different lines, and seeing the results by my lap times and split times. Surely, the next time I come back for a competition event, the seat time achieved here will be an advantage over my competition who only sees the track for 45 minutes once or twice a year.
Other drivers we spoke with had similar experiences on track. In talking with the owner of the Dodge Viper, driving his machine was scary fast as he neared the car's limits. We saw some spec miatas and even a lemons prepared car getting the experience time on track. One car did have a bit of rear bumper damage due to overcorrecting and finding a nice railing to back into while on track, but nobody was hurt and I believe the car drove home in one piece. All comments from drivers were positive and everyone seemed to be having fun. If you are a novice or just interested in getting your daily driver on track for the thrill of the speed, these guys will help you get there and provide the instruction you need to do it safely and return home with your car in the same condition you drove it there (…Ok, minus a little brake dust and tire wear).
By the end of the weekend, we were ready to take it easy and drive home. Three hours of track endurance is enough for the average driver, but not for everyone. As drivers trickled out of the paddock for the day, those who still felt that they hadn't had enough went back to grid up in one combined group. We checked out the action from several different viewing areas around the outer perimeter of the track and got some great pictures. We even saw Julian show some expert recovery skills at turn 12 in his GT3. His response about getting nearly sideways on an off camber uphill sweeper was that he would be back with a "bigger rear wing" next time.
In summary, Tracks Unlimited knows how to have fun at a racetrack. The tracks they have on their event list are fast, technical, and a blast to learn on. The only complaint I can have over the weekend is the cost associated with registration. However, where else are you going to get 3+ hours of seat time in one day? If price is the only thing holding you back, I found out that they allow one day registrations as well. 
With our weekend coming to an end, Katie and I found ourselves back on I-85 and nearing our home in Greenville, SC. We talked about the events of the weekend and how we just knew that work next week was going to seem a little bit easier with those memories to look back upon. On our way back, I actually spotted my good ol' hat we had lost on the side of the road! We left it there knowing that our memories of weekends spent at the track with cars and friends truly exist beneath the hat and they are absolutely unforgettable. Big thanks to Michael Peden and our wonderful hosts for the weekend – TRACKS UNLIMITED!  
Contributing Writer –  TJ Theodore September, 2016 Copyright
All Rights Reserved No Reprint without written consent of The Southern Driver 
Try out Tracks Unlimited at their next event on November 12th at Nashville Motor Speedway.
Click Here for details.
For more information and  registration for upcoming events :  Tracks Unlimited Registration Page
Also, more pictures from this event are provided at the following link.
https://drive.google.com/drive/folders/0B-QgomywNvE1UVdBRnUxN1dmVDA?usp=sharing