Dragon Hillclimb III "Something old and Something New…"
…Something Borrowed and Something Blue!"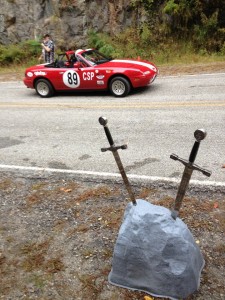 A great field of drivers attacked the Chasing the Dragon IV Hillclimb September 29 & 30 in Robbinsville, NC for a most memorable event! In spite of rain and some timing issues,  the drivers, workers and spectators had a great time.
For three days in advance, workers and drivers prepared the hill, trimming grass, weed eating and marking all spectator and worker stations. Chad Summey, one of our event staff, made laser etched tags to rivet to the guard rails. We now have clear markings for start, finish and every worker station! Chad was inducted into the Order of the Maroon Dragon  for his service and effort. Jersey Barriers were brought in for maximum protection for spectator #2 compliments of a local construction firm, Phillips & Jordan.  Grand stands were brought in by the city and Jersey Barriers were filled by local Fire Department. Friday morning, drivers began filling up main street to be registered and tech'ed so they could find their paddock space on the hill.  Friday night, over 16 drivers attended the CCR Hillclimb Novice Classes at the Conference Room at the host hotel, Microtel of Robbinsville. Ted Theodore explained many unique challenges of the sport, things to watch out for in general and in specific on the Maple Springs Road 2.4 mile course. Drivers dined at many different restaurants in town and were treated most hospitably by the nice folks of Robbinsville!
Saturday started foggy and drivers had spots were visibility was ten to fifteen feet in some areas. By 10:00 AM, the fog had blown off and the … our old friend, the rain began to fall. We had seen this before but it was at the end of our first Dragon in 2011.  As there was no thunder, stewards continued to cycle drivers through the course. Then after lunch and a bit of sun, the REAL rain began… and it poured. Moisture contributed to timing issues . Drivers continued to run but a wet course with no times kept many from doing anything more than recon runs to prepare for Sunday. Novices drove intelligently and focused on learning the mountain. Spectators enjoyed the antics of the Dragon Mascot (Amy and Victoria) and great food provided by Sean and Matt, the owners of Huddle House. Something new at our event was host of new cars and drivers : Jarrod Smith's IROC Camaro, Tony Machi's Honda, Michael Tablas in his freshly built Miata, Byran Toth and Roger Carter in their 2 month build RX7s, Shane Findlan back again BUT in his own Corvette he built up just to be at the Dragon Chad Matthews in his Mini. MANY new drivers that drove with excellence! Many unique cars were on hand like the white racing Karmann Ghia of Ron Richey, Ken Owen's gorgeous TR6, Tony Wentworth's Yellow Fiat 124 Spider, the Coffey's beautiful blue 240Z, Dan Chesanow's Venus Formula Vee, Byron Webb's BMW E21 320 and Harold Seagle's lovely Porsche 911 SC. We had FOUR  lady drivers in the field all running in the same class as the men. From early reports, we will have many more in the spring of 2013!
A local Highway Patrolman came to take an exhibition run in TJ Theodore's CSP Miata. TJ suited up Thatch and sent him on his first run up the mountain in a sports car. The time he ran was only 2 seconds off  TJ's time at that point. It's obvious that Thatch is well versed in high performance driving and we look forward to having him join us at future events.
Saturday night, our workers were treated to a great steak dinner at Huddle House in Robbinsville. Many of the drivers joined the workers there and libations of a less dry form were available as a private party event.
Sunday turned out to be beautiful and timing issues caused by moisture were  repaired Saturday night. Drivers were ready to attack the mountain! Dustin Webb and James Farrris did a great job announcing and playing music for us. Dustin is fast becoming an avid talented hillclimber and he learned an important lesson… he loaned his 240SX to Robert McManus for one run … and Robert ended up taking the class bumping Dustin to 2nd! I am glad to report they are still good friends! First run of the day, Robert Martai and Marcel Ceaskay had a bracket break on the diff on their beautiful Rally Evo. The day was done but their times from Saturday in the rain were good enough for Rally Class win, Class Record and 4th place overall! THAT is an amazing run. We'll find out what they can do in the dry hopefully next Spring! Scott Sipler went from 2nd to 1st in SU – Street Unlimited Class on his lst run of the day on BORROWED Slicks! Lots of great class competition and helping each other win… a trade mark of the Time Trial drivers in SEDIV! George Bowland and Blair Underwood only made a few runs but they made them count. They took 1st and 2nd overall against some strong pressure from Heikki Rinta-Koski and Robert Martai. Chad Matthews and Jarrod Smith turned in outstanding performances with 6th and 7th place finishes in their FIRST Hillclimb! TJ Theodore finished 8th overall in his CSP Miata on his 3rd run at the Dragon.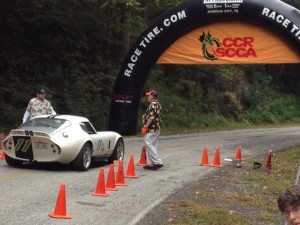 Under a beautiful blue sky and sunny sky, spectators, drivers and event staff met by the tire to see Robbinsville High School's own Miss Black Knight (McCall Anderson) and our Dragon hand out trophies. Tony Machi came all the way from Wisconsin to run his first hillclimb and managed a 1st Place finish in FP in his Honda CRX. Nate Wimbrow took first Spec Miata in his first try at the hill. There were many success stories but none like that of Bryan Toth who took his V8 powered Mazda Rx7 from street car to Time Trial car in 2 months for this event. After a few runs Saturday, he had troubles with his alternator and Farron Orr of Carquest in Robbinsville opened up to let him buy one after hours. Repairs made, he was ready for Sunday but battled battery problems from the alternator. Another competitor Lars Lattstrom loaned Bryan a battery so he could run. Then after blowing a tire, it looked like Bryan was done for the weekend. Not SO! Larry Eller of Eller's Wrecker Service drove Bryan to his shop in town and changed both tires so he could mount them up and finish running the event. Bryan gets our "DIE HARD" Award for refusing to quit! Nice Job Bryan!
At our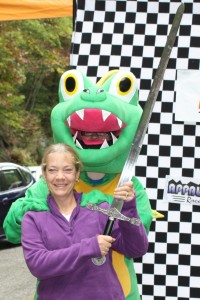 trophy presentation, Vicki Lanning won her FIRST Queen of the Hill Dragonslayer sword. The first two Dragon Hillclimbs, Vicki missed by small margins due to last run victories by Chris Moore. George Bowland stood for his pictures with Miss Black Knight and the Dragon, pulled his sword from the stone and promptly speared one of our inflatable dragons! He then casually hoisted the sword  up on his shoulder with the airless lifeless body of the dragon swaying side to side and strutted off through a crowd of cheers and applause. George's victory was sweet as it is his first run at this hill… but there is still time to be found. Cory Friedman's record run from Dragon I last year STILL remains the fastest run in the history of the event. George will be back in 2013… and Cory may be back as well! Don't count out Heikki, Robert or Blair. The record we thought would not be broken is now… in the reach of several of our best hillclimbers.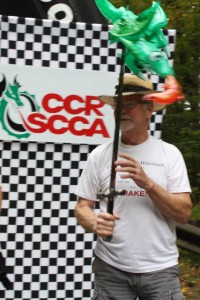 A GREAT thanks to SCCA Central Carolinas Region for hosting a great event, to the Event Staff who worked corners in rain, to our sponsors – HANS (Jay Braxton &  Trish England), Grassroots Motorsports, Appalachian Tire, The Southern Driver and many local businesses in Robbinsville and Graham County. Also thanks to : Ditmore Family of Microtel, Chamber of Commerce (John and Valerie Feil and the great members who helped in so many areas) , Connie Orr and Billy Ditmore and the Graham County Travel and Tourism Board, Sherriff"s Department, Larry Hembree and the Graham County EMS/Rescue Squad, Thatch and the NC Highway Patrol, NC Department of Transportation, Juanita Colvert and the staff of Graham County Transit, Lori and Darryl Cannon of www.killboy.com, Sean and Matt of Huddle House, and Terinda and Lauren of the US Forest Services and their LEOS. And as always a big thank you from our drivers and staff to the citizens of Graham County for their hospitality and friendship. We LOVE the chance to be with you and look forward to it next year June 15-16 and August 3-4 in 2013!
Pictures compliments of www.killboy.com, The Southern Driver, Rodney Maxwell, TJ Theodore and Steve Williams
More beautiful pics available at www.killboy.com
RESULTS HERE  :
Class results: http://ccrscca.com/results/ctd3_fin.htm
Overall times: http://ccrscca.com/results/ctd3_raw.htm