Area 81 Team – Success at Roebling's Tom Nehl National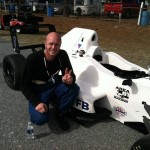 2012 Tom Nehl National SCCA Race Recap
In their SCCA National debut, Wilmington NC based Area 81 Racing lit up Georgia's Roebling Road Raceway as #18 driver Tim Pierce earned his first SCCA National podium with a 2nd place finish.  Richard Franklin driver of # 81 finished 4th.

Tim # 18 – "We had a new wing package and didn't have an opportunity to test it on Friday. Fortunately, it was pretty close and we made small adjustments after the Saturday practice and qualifying sessions. I couldn't have been happier with the car this weekend. It just felt great. When everything is going well out there, you don't want to let up when the checker is waived."
After nearly a year away from the cockpit, Richard finally was able to unveil the new FB car # 81. Smiles were abundant as he wielded his car for the first time on track.  He posted astonishing improvement each session and finished a respectable 4th place in his first SCCA National race.
Richard # 81 – "Friday's test day was critical to me getting comfortable in the brand new Stohr F1000 car.  A slight fire in the engine compartment took out the water temp gauge for the weekend, but the car ran strong and was largely trouble free.  The biggest challenge was getting acclimated to F1000's high rpm power, the fantastic braking and the 6 speed paddle shift gearbox.  Sunday's AM warm-up was interesting when the burned sensor wire took out my steering wheel display.  It was a blessing in disguise;  I was able use my Sportbike experience and make the gear changes by sound.  It actually helped me focus on matching revs and built up my confidence. The end result was my race lap times were 3 seconds better than qualifying."
Both Area 81 drivers credited their sponsors CITSCORP, Briky and especially the Area 81 Racing crew for a job well done.
The SCCA National was not the only debut for Area 81 as the Briky PCB1000 Personal Cooling Blower was demonstrated and used in race conditions for the first time.   Both drivers were able to have an ample supply of cool fresh air on the hot Roebling Road grid.  More information regarding the PCB1000 can be found : http://www.elecmechinc.com/page04.html
For more information on Area 81 Racing and sponsorship opportunities, see their website at :    www.Area81Racing.com