Mark Kilgore – A Southern Driver that's "LOVIN' IT! "
In motorsports and in life, there are many things you decide to try but you are not sure if you are going to like it. You psych yourself up, jump in and go for it! Maybe you walk away saying "well, that was not for me…" but other times, you walk away on wobbly legs yelling "OHHHHHHH… MY GOSH! THAT WAS AWESOME … WHEN CAN I DO IT AGAIN!?!? " That is often some of the best moments in your life. Mark Kilgore of Birmingham, Alabama jumped in and went right to the top. At SCCA Sediv Jekyll Island  Annual Meeting, Mark was recognized as the 2011 SEDIV Time Trial SM Champion in his first year of competition. Is he enjoying his passion? You tell me…
Birthplace :  Birmingham, AL
Home :  Birmingham, AL.  Born and raised in Birmingham, I left to go to Auburn University for 5 years, and then returned to Birmingham for grad school.
Family/Pets: My parents (thanks for the support throughout my life).  My brother, John, who is the other part of the team.  My girlfriend, Emily, who puts up with the long hours working on the car, and is my co-pilot when traveling to races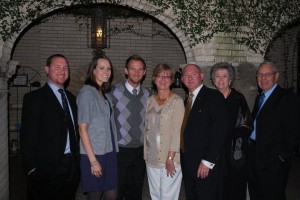 Profession :  Graduate Student at UAB.  I am currently in my 4th (and hopefully final) year getting my PhD in Neuroscience.  The lab I work in studies learning and memory.
Cars presently owned :  White 1990 BMW 325i (daily driver).  Red 1989 BMW 325i (track car)
Favorite past cars owned :  Besides the two BMW's, I have only owned one other car.  It was a 1999 Mercury Cougar.  I got it when I was 16 and had it until I was 26.  It was a great car and I have fond memories of it.  I still hope that she is running strong and roaming the streets with the people I sold it to
Championships/Titles/Offices held :  2011 SEDIV TT Street Mod Class Champion.  2011 ALSCCA TT Driver of the Year.  2011-2012 ALSCCA AutoX Co-Chair.
Your favorite childhood memory involving cars:  I'm not sure of the exact date, but it had to be 1989 based on the fact that I was in elementary school.  My dad had just bought a Nissan 300ZX.  I thought it was without a doubt one of the coolest cars EVER.  My friends and I all rode the bus to and from school, and it was a rarity for one of my parents to come pick me up from school.  For some reason, my dad was coming that afternoon after school.  I remember him pulling up, and as I walked to the car, all of the other kids there were just oogling over the 300ZX.  I might as well have been getting in a Ferrari or Lamborghini (not that I knew what those were at the time).  I just remember kids yelling, "Hey, your dads car is AWESOME!!!".  I felt like a million bucks!
What do you enjoy most about motorsports:  What I enjoy about motorsports is that it encompasses most every aspect of competition. Teamwork:  You have to rely on teamwork to get the car prepared, and setup correctly to get the best out of it.  Individual Competition:  You have to rely on yourself as the driver.  When you're in the car, no one else is to blame but yourself.  Camaraderie:  Especially true in grassroots motorsports, being social and friendly with the other drivers is what makes it all worth it.  It sure is fun to win.  But it's also a whole lot of fun having a weekend spent with friends who share passion for the same sport you do!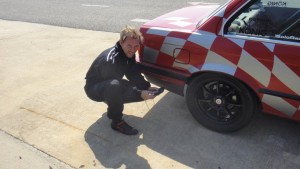 Advice to up and coming drivers :  1)  Don't be afraid to just jump right in.  I have enjoyed cars all of my life.  But I never really worked on them, or dreamed of being the next Schumacher.  I have only been a part of the SCCA for 4 years now, but in those 4 years, I started at local ALSCCA solo events, and now I am driving in SEDIV Time Trial and hillclimb events, as well as running the ALSCCA solo events with my brother.  2)  Don't be afraid to ask questions.  Everyone was a new driver, or new-to-solo driver, or new-to-whatever driver.  I have had a million questions about what to do, where to go, when to be where, and on and on.  Don't be afraid to ask.  The especially pertains to solo drivers.  Don't be afraid to ask to ride in someone elses car.  Especially the fast guys.  And don't be afraid to ask someone to ride along with you.
Favorite professional driver past or present :  I have always admired the guys that can sustain winning.  Not just winning one year, but dominating the competition year after year.  Schumacher.  Vettel.  Pruett and Rojas.  Some people don't like when one driver, or team, dominates a series.  I do!  I like to watch and wait for someone who can finally step up and dethrone the champion.  I like to see how hard the guys in front are constantly pushing and evolving in order to stay up front.
Favorite road to drive :  Grants Mill Road.  It's a fun, curvy, scenic road that goes in the back way to Barber Motorsports Park.  It's the road less traveled.  It's a lot of fun!
Your future racing plans :  I will continue running the ALSCCA solo program with my brother as well as driving in it.  We hope to make a regional event in the next couple of years and that will be the highlight of my solo career for me at least.  The main avenue of exploration right now is Time Trials and Hillclimbs.  My lofty goals are to get invited to the Grassroots Motorsports Ultimate Track Car Challenge in the next 3 years, and compete in the Pikes Peak Hillclimb in the next 5 years.
Anything you'd like to share about yourself, motorsports or experiences :  Even though it has only been 4 years since I have been seriously participating in motorsports, I feel like it has been at least 10.  To think that I would be heading up a solo program with my brother, building cars and driving them in hillclimb and time trial events, and meeting so many great people has just been awesome.  We have all shared many great memories together and I hope for many more.  Thanks to my brother John, my girlfriend Emily, C and Sara Tongsuvone, Ricky Ragan, John W8, Darryl Engle and Pops, and the whole ALSCCA crew.
Favorite story
from your driving career :  While it has been a short career so far for me, there is no doubt about what my favorite story is so far.  It's the time I first raced in a hillclimb.  Remember what I said about not being afraid to just jump right in?  Well here goes an example.  March of 2011 I attended the Time Trial School at Talladega Gran Prix Raceway.  That was pretty much my first on track experience.  The weekend went great and I got my full TT license at the end of the weekend.  Fast forward a couple months, and I hear about a hillclimb event that is going to be put on in North Carolina.  It's near the famed Tail of the Dragon.  It's 2.2 miles long.  It has over 1000 ft of elevation change.  Sounds like the perfect race to show my brand new TT license off with!  I decide I want to go.  I drag my girlfriend along with me.  We are the only ones from Alabama going.  It's a 5 hour drive ending up in the back country and hills of North Carolina.  Driving up there was an experience.  It was 9 o'clock by the time we arrive Friday night.  We drive around the hills outside of Robbinsville, NC…..ok, we're lost….because we can't see the signs on which way to go.  We finally find the site, unload the car, unhitch the trailer, and make it back to the hotel.  Exhausted.  The next day we make it back to the site.  I am rejuvenated because now it's time to race the car.  My girlfriend, Emily, not so much.  She's passed out in a tailgating chair.  But after the first run up the mountain, I am hooked.  Addicted.  Lovin' it.  I haven't looked back since. I had no idea what I was getting myself into.  Like driving 5 hours with a car on a trailer.  Like going to a place I had never been before.  Racing with people I had never met before.  But looking back on it, I wouldn't have done it any other way.  I met some great people there too.  That's the great thing about us southern people.  You can show up to a race not knowing anybody, and by the time you leave at the end of the weekend you will have made some new friends!  So go ahead.  Jump right in!
Yeah. I'd say this guy can DRIVE.  And from the smile on his face and those wobbly legs when he climbs out of the car, I'd be inclined to say …he is LOVIN' IT!  Thanks for your part in our Southern  Racing Traditions! We look forward to more success from you in the future. Thanks Mark!