An Interview with Tim Pierce of Area 81 Racing
Meet Tim Pierce co-founder of Area 81 Racing! Tim has a great background in racing and it has lead him to the F1000 Championship Series this year. Tim, his wife Kristen and his son, Alex, share a house in North Carolina with what I understand to be "the largest dog you've ever seen".  He works for a company that provides cyber-security systems for nuclear plants all over the US… his plant visits are frequent and the Pierce home has little need of night lights. His driving on track speaks for itself… but one of his best compliments comes from a fellow driver…"He is a gifted driver, I drove behind him at a SARRC Race at Roebling Road… literally inches off his rear wing, worrying him for 16 laps at over 140mph.   HE NEVER MADE A MISTAKE."
I think you'll find Tim's story is a great one and his future in F1000 a success story in the making.
Birthplace : Lake Waccamaw, NC
Home : Leland, North Carolina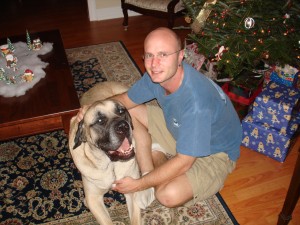 Family/Pets: Wife Kristen, son Alex, and a 7 1/2 year old 190# English Mastiff named Gabe
Other non-motorsports related hobbies : Winemaking, boating, snow skiing, and snow boarding
Profession : Technical Support Engineer – IT Security
Cars presently owned :
2010 Firman F1000 Race Car
2004 Ford F350 FX4 Dually
2006 Volkswagen Jetta TDI

2008 Chevrolet Trailblazer
Favorite past cars owned :
2003 Nissan 350Z, first autocross and PDX car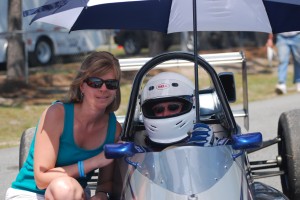 1992 Reynard SF, first racecar
1978 Jeep CJ-5
Championships/Titles/Offices held :
2005 – Cape Fear Solo Champion B-Stock
2006 – Cape Fear Solo Champion B-Stock
2008 – Formed Area 81 Racing Team with my friend Richard Franklin 2010 – Tied for 4th place (with Area 81 Racing Teammate Richard Franklin) in Formula Continental SE DIV SARRC Club Racing Championship – 1 race win
2011 – Sold FC to move into the Formula 1000 (FB) class with the purchase of a 2010 Firman F1000
2011 – Finished 2nd Place in Formula 1000 (FB) SE DIV SARRC Club Racing Championship – 3 race wins + 1 at the 2012 Goblins Go
2011 – Announced Area 81 Racing entering as a 2 car team in the Formula 1000 Championship – a Div of SCCA Pro Racing
Your favorite childhood memory involving cars:  Watching my dad restore classic muscle cars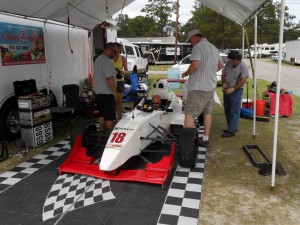 What you enjoy most about motorsports:
1. The camaraderie of the racing community
2. Reeling in the guy ahead and setting him up for the pass
3. The privilege to participate in a sport that only a select few are lucky enough to experience
Advice to up and coming drivers :  Stay safe, work hard, and go faster!
Favorite professional driver past or present :  Mark Donohue
Favorite road to drive : The Cherohala Skyway and the Tail of the Dragon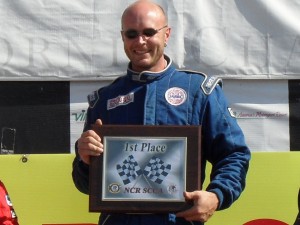 Your future racing plans : I plan to compete in the Formula 1000 Championship Series and SARRC National events and look forward to learning new tracks.
Sponsors :
Kestrel Designs Web Development
SpeedQuest LLC.
People I really need to thank! The person that I'd like to thank the most is my wife, Kristen.  She listens to me ramble about racing on a daily basis.  She is understanding when I spend a huge amount of time and money on racing.  My father participates in all my races.  He's always willing to help, whether it's as crew chief, crew, race engineer, financial consultant, lendor, or life advisor.  My teammate Richard Franklin offers constant encouragement and stiff competition.  Brian Little has served as my mentor and really helped Richard and I get started.
Anything you'd like to share about yourself, motorsports or experiences :  Racing is alot like life.  Where there's will, there's a way!
Favorite story from your driving career :
I was racing my Reynard in Formula Continental at VIR and broke a header pipe.  I almost choked on the fumes each time I hit the brakes.  I briefly passed out in the exit of Oak Tree while leading the race.  I went completely off the track and managed to recover, but was passed by my teammate in the process.  I ended up taking the lead a couple laps later for the win.  While in impound, I got sick and had to make a run for the restroom.  I got sick again in the paddock and had to ask my wife to drive the rig home.  It later dawned on me that I had carbon dioxide poisoning from the broken header.  I was amazed that I pulled it together and finished the race safely.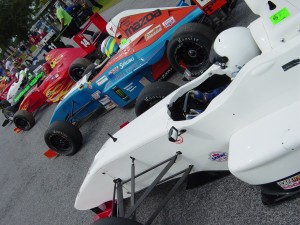 Thanks Tim for sharing some of your life with us. Continued success in F1000 this year! If there are any potential sponsors looking for a great opportunity with a rising team, please check out  www.area81racing.com for more details. We look forward to hearing more from another of our favorite  Southern Drivers!