How to Ready your Solo Car for Time Trial
ENTERING THE TIME TRIAL RANKS? Been doing a lot of SOLO?  Thinking it would be great to get your car on a race track and see what you and it can do?  Want more seat time than you can get in SOLO?  It is not as difficult or as expensive as you might think.  You do not have to have a road race prepared car to participate.  My daily driver Miata is still used for SOLO, Hill Climbs and Track Trials.
SEDIV has had a Championship Time Trial Series since 1982.  The series consists of Track Trials (Level 3) and Hill Climbs (Level 4).  Every class of car found in the SCCA General Competition Rules (GCR) plus the Regional Race Cars plus SOLO prepared cars are eligible to compete.  Over the last few years, the SOLO based class, CSP, and its flagship car, the Miata, have made up 25-30% of the overall entries.  A typical TT weekend provides more than 2 hours of on-track time at an entry fee of $250-275.
Time Trials is not wheel to wheel racing.  Safety of cars and drivers is one of our paramount concerns.  Cars will be on track with other cars of similar speeds.  If necessary, passing is done on straights with a point-by acknowledgement from the driver being passed.  The SEDIV TT Drivers are all friendly and more than willing to share advice, wrench on cars, and make your weekend enjoyable.
Let's discuss someone taking their SOLO car and using it to enter time trials.  Confused by the myriad of rules in the GCR or the Time Trials Rules?  Hopefully, I can simplify them.  There are a few things, like safety, that have to be added but essentially you could run your SOLO car as is.  Time Trials uses the Street Prepared classes along with SM.  The SOLO Street Prepared cars can be prepared up to the SOLO rules plus have the necessary safety equipment.  Cars that are prepared to Stock classes are bumped into the appropriate Street Prepared class.
In a separate article, we will discuss personal safety gear but for meeting requirements, here's the facts :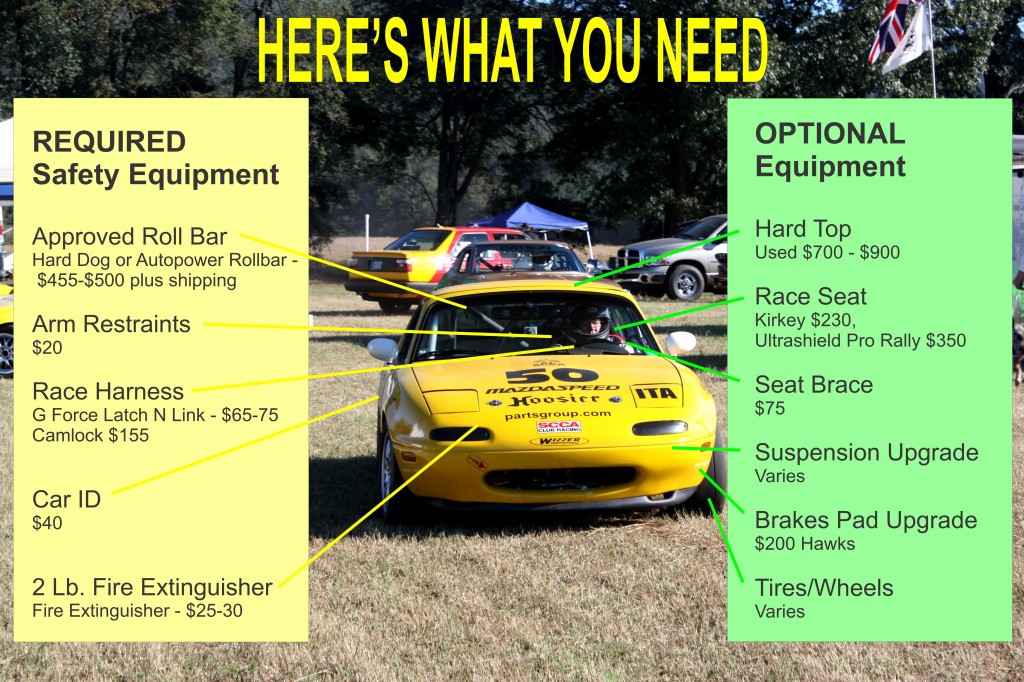 Safety Equipment:  All cars have to have necessary safety upgrades.  This is for your protection.
A four point rollbar with a diagonal and back braces is essential.  The roll bar may be bolted in and thus made removable.  Hard Dog makes an excellent one for the Miata but get the soft top version not the hard top version.  See the discussion about head clearance under "Seats".  Portions of the rollbar that may contact the driver or passenger's helmet must be covered with absorbent padding.  This is especially necessary if your car is a daily driver.
A two pound dry chemical (1A10BC or 10BC) hand held fire extinguisher is required.  It can be mounted to the roll bar using a metal bracket with a quick release clamp.
Arm restraints are used in lieu of a window net.
You do not have to have a hardtop but may use one.
Race Harnesses:  Some of you already use race harnesses in SOLO.  Unlike Road Racing, for TT a SFI 16.1 or 16.5 rated 5, 6 or 7 point harness is good for 5 years from the year of manufacture.  Camlock or Latch n Link is your choice.  FIA rated harnesses cost more and are good for 5 years as well as the SFI harnesses.  For my Miata, I use eyebolts at the stock mounting points and use clip-ins.  The substraps can be clipped in to the rear eyebolts or bolted to the front stock seat mount bolts.  3 inch belts are fine.  If you use a 2 inch shoulder belt, you must have a Head N Neck Restraint (HNR) device.  Unlike road racing, a HNR is recommended but not required.
Suspension:  Stock suspension or the SOLO suspension you have is fine.  Obviously, an improved suspension means more competitive times but it is not required.  Suspension is free of restrictions and there are many versions available at varying prices.  My Miata race suspension is my daily driver configuration.
Brakes:  Track braking is done from higher speeds than a SOLO event.  Many tracks see the Miata reaching its maximum speed.  The Miata stock brake calipers are more than adequate.  You will need to upgrade your brake pads to something like a Hawk Black compound.  The upgraded pads you already have for SOLO may be sufficient.  Don't forget to replace the brake fluid with a DOT 4 variety and bleed them carefully.
Tires/Rims:  You probably have an extra set of tires and rims for SOLO.  These can be used for TT as well.  Cars can run on street tires as long as they are rated for 120 mph.  Just like SOLO, better tires means faster times.
Seats:  The stock seat can be used.  In a Miata, a tough issue is that the driver's helmeted head should be 2 inches below a stick placed on top of the rollbar and windshield.  At the very least, your head must be below the top of the rollbar.  For a lot of people, this is difficult to attain.  Some people can achieve this by removing a few inches of padding from the driver's seat.  The alternative is to get a Kirkey or Ultrashield aluminum seat.  Use two pieces of 1/8" x 2" steel strap that is bolted to the stock floor mounts to mount the seat to.  Position yourself in the car, mark where the seat is, and match drill four bolts thru the seat base and straps.  Removing the race seat and replacing it with the stock seat is a matter of 4 bolts and about 15 minutes.  If you use a aluminum seat, you will need a seat brace mounted to the seat and rollbar.  Most of the other race seats available do not solve the head height issue in the Miata.
Car Identification:  Just like SOLO, you will need car numbers and class designation.  Magnetics work just fine for this.  You can also put the SCCA Club Racing decals on magnetics and use them.  Shoe polish is generally not adequate.
Tech Inspection:  Your car will be inspected and issued a Time Trial Logbook.  This can be done by any licensed TT Tech Inspector.  Think of it as an advanced SOLO Inspection but we will be looking at the additional safety gear requirements.  The best Tech Inspector is yourself since ultimately you are the one who has prepared the car and will be driving it.
Our NEXT article in this two part series will be all about licensing and your personal safety protection gear. We look forward to seeing you in SEDIV Time Trials in 2012!
– Craig Farr-
SCCA TVR Region