George Bugg – F600 driver and D.A. for SEDIV Time Trial Program
If you race in the TVR / Alabama regions, you have no doubt met George Bugg. His experience in Time Trial and Road Racing in SCCA have given him a solid position from which to lead and advise. It's obvious in talking to him that while racing is a real passion, his family and friends are held higher. Those that know him well will tell you that although he has red hair, a red F600 and a red M Roadster… he is even tempered and peaceful by nature. We are proud to have him as a Southern driver. Here's some more about George!
Birthplace : I was born in Newport News, VA.
Home : We moved from Newport News before my first birthday, so Huntsville, AL has always been "home". I love north Alabama and have lived here for over 45 yrs.
Family/Pets: I've been happily married to my high school sweetheart, Kay, for 23 years. We have 3 children and a half-dozen kids. William started college this summer, Steven just got his driver's license and likely in the shop right now trying to adjust the pedals in the race car to fit him, and Kaylyn is my baby-doll. She's 11 and has her daddy wound tightly around that pretty little finger of hers – and I love it!
Oh yeah… the half-dozen kids… We raise Boer goats on our 10 acre "farm" up the road.  They started out clearing the brush and eating the poison ivy. Now they all have collars and names, so we have to count them as pets.
Profession : I'm an Aerospace/Mechanical Engineer. I spent a bunch of years designing missile parts and special "tools" for some of the finest folks I've ever had the honor of working with – the US Military and Law Enforcement communities.  I've been in management for too long now. The only design and fabrication work I get to do is on my race cars(s).
Cars presently owned : The daily driver doubles as the tow vehicle – 03 GMC truck. The sunny day car is a 2000 BMW M-Roadster (just like my hero, Ted Theodore's!)  For those perfect Sunday afternoons only, I have a 1963 MG Midget that I restored for the original owner 15 years ago, and bought from him last summer. And finally to satisfy the racing urges, I recently converted a KBS F500 to motorcycle power and have been racing it in F600. That appears to be the best bang for the buck out there. It takes several weeks for the smile to fade and the heart rate to get back down to normal range after a race weekend!  I suppose I should list the ITA Honda CRX, too. Although after a bad crash several years ago, it is still awaiting reassembly.
Favorite past cars owned : I've owned way too many cars list here and narrowing it down to a single favorite would be a task I would struggle with. My wife (lovingly referred to as "Team Owner") would say my favorite car is the next one I bring home. Maybe I should just leave it at that.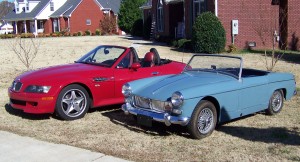 Championships/Titles/Offices held : I've been blessed with a few SEDiv Time Trials Championships and a couple of SARRC wins (usually when no one else is running at the end of the race…) and am currently the Divisional Administrator for the SEDiv Time Trials program. But the most humbling and proudest (is that even possible) moment for me related to motorsports was being elected into the Solo I/Time Trials Hall of Fame a few year ago.  Having my name listed among some of my heroes and mentors is something that I will always cherish.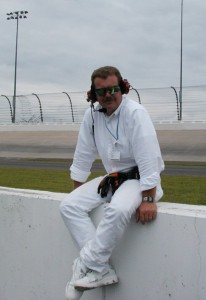 Your favorite childhood memory involving cars: As a young teenager, my dad bought a 1972 Ferrari 246 Dino.  It didn't run most of the time he owned it, but when I turned 15 he let me drive it – REALLY drive it – one night on a dark country road near the house. Wow. That was cool.  Oddly, he had to sell it just before my 16th birthday. He made up some story like my sister had to go to college.  I surely wish that car was still in the family. But alas, my sister now has her PhD and I'm sure will buy us another one someday.
What you enjoy most about motorsports: I love the feeling of lining up 2-by-2, finding the sweet spot in the revs and waiting for the green flag to fly! I love the smell of race gas and the rumble in my chest when the GT1 guys roll by. I love standing in the corner station with a flag in one hand and the radio in the other.  I love watching some of my crazier friends blasting up a curvy mountain road and the feeling of relief when I see them coasting safely back down after a good run. But mostly I love the friends that I see a few times a year at various tracks and events that have become like family.
Advice to up and coming drivers : Get involved! Work a corner. Ask questions. Listen and be willing to accept a little advice (and even a little criticism).  SCCA is a club and as a member, you ARE the club. If your aspirations are to race some day, start small, but START. Take your daily driver to the local autoX. Give PDX a try and LISTEN to the instructor in the right seat. Upgrade your safety gear and come out to a Time Trials event. Once you're comfortable with your car and you own abilities, if you still want to go wheel to wheel, DO IT!
Favorite road to drive : This one is a tossup between Roebling Road and Road Atlanta. Roebling is farther away, but the concrete walls at Road ATL hurt!
Your future racing plans : I plan to continue in F600 and help define the direction of the new class. With children headed to college, the race weekends will likely be a little more spread out. However, when Steven gets the fit right, I might find myself as crew chief rather than primary driver. Who knows…
Anything you'd like to share about yourself, motorsports or experiences : I am a follower of Jesus Christ.  I truly believe that the Creator made us to live fulfilled lives. It is up to each of us to determine what brings fulfillment in our particular situations and make it happen. However, I think the priorities should remain constant – God, family, friends.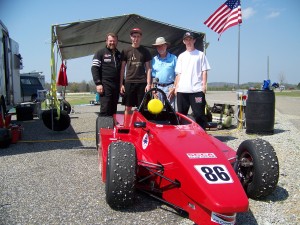 Favorite story from your driving career :  It was the "old" Road Atlanta during a Solo I event in 1991 or 92. I had helped a good friend make some repairs to his Raptor F440 – my F440 had motor troubles so I was out for the weekend. As a thank you, he offered to let me take it out for the last session. In those days, we ran a warm up lap and 2 hot laps for time, and I had taken the first laps nice and easy as I wasn't about to "push it" for fear of damaging someone else's car. I came down the hill onto the front straight and nailed the throttle for the start of my final lap. But when I lifted for T1, nothing happened – the engine remained at WOT! My mind shifted from "take care of Steve's car" to "Holy COW! Hang on!!" and I finished the lap stabbing the brake and hitting the ignition switch to slow down.  It was my fastest lap of the weekend and I stole the trophy from the car owner! Turns out when we put things back together, the throttle cable got a little too close to the exhaust and gummed it up inside.  Maybe I should have shut it down and coasted in, but once I got the hang of it … Oh, and by the way, we are still good friends, but I never got to drive his car again.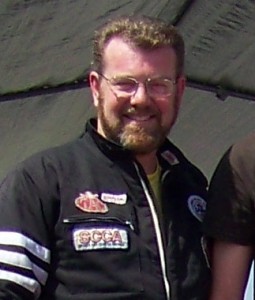 George, thanks for the time and effort you put into making Southern motorsports fun and efficient. Whether racing, working or just talking at events, you definitely make us all feel like family. Now if we can just get your work to let you spend more time in an Alabama zip code, we'll be happier!