NEW HILLS TO CONQUER
In September of this year, George Bowland set out on a trip to run 3 hillclimbs in three states in three weeks. From his home in NC, to Boise Idaho to Polaris Montana, over to Weatherly Pennsylvania and then back home…8100 miles. THAT is a lot of asphalt but George is well accustomed to seeing asphalt pass under his car!
If you've ever been to a southeastern or PHA hillclimb, you've seen George in his BBR Shark Hillclimb Special on his way to another King of the Hill honor and it's likely he set a record while doing so. George describes the shark as a "" a custom built formula car with a frame as light as you can make it and still be strong. 740 pounds in hillclimb configuration. That's the secret to the car. It's a very dirty car aerodynamically but the carbon fiber wings are pretty efficient. Like most formula cars, it has huge resistance to the chassis and tires and it over comes that with a powerful motor. This motor is a 1400 cc lake snow mobile racing engine generating about 290 horsepower.  Lots of power, high downforce wings and a great suspension designed by my son, Todd. He has done a lot of work for Joe Gibbs and NASCAR to create suspensions than maintain good steering geometry under incredible loads on ovals. The steering  on the Shark feels the same at 30 as it does at 100 with 1500 pounds of downforce."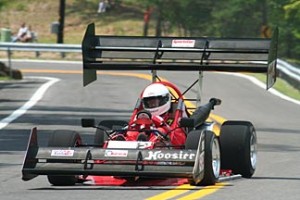 Sitting in the Shark, he is all business. He is focused at a Zen level and becomes one with it. He is literally wired into his machine and its connection to the earth beneath it.  Outside of his machine, George is a friendly caring gentle giant with size 13 feet, a rapier wit and a devilish sense of humor. While he may pick and tease, he is also the best resource around on hillclimbing, lines and car design. He freely offers advice and mentors gladly to encourage the growth of the sport he loves.  While he can help you out on individual turns and lines and driving theory, his first goal will always be to help you learn while staying safe. George was not born with the ability to go this fast on a hill. While he was involved in racing for many years, he didn't run his first hillclimb until the age of 41 at Chimney Rock in 1983. It was at that point he fell in love with hillclimbing and the Chimney Rock area and moved his family from Ohio south to be closer to that mountain. The friendships he built while running the Rock still run deep. He stays in constant contact with hillclimbers like Jerry Kieft, Bob Boggeman and Stan Vann.  Over the years since then, George has captured the King of the Hill records at Beech Mountain, Eagle's Nest, Crow Mountain, Blue Ridge, and Wolf Ridge. In the North, he has the records for Weatherly, Duryea and Polish Mountain.  He decided he was ready for some new hills.  A lady George had been dating, Liz Donnelly, had never been west so they decided to combine 3 hillclimbs with Yellowstone, Jackson, the Tetons, Sawtooth Mountains, and Sun Valley Idaho. Liz planned to fly out and meet George at the first hillclimb stop so he began his long journey west in late August alone.
George stopped in Laramie where he attended University of Wyoming and in Green River where he lived back in the 50s. He stopped in Soda Springs, Idaho where Todd and Tracy were born. Not much had changed over years but spring water was still bubbling and the visits brought back a lot of fond memories. Somewhere along the way, George realized he had forgotten his Nomex driving suit but Liz was kind enough to pick that up and fly it out to him.
1st Stop : Bogus Basin Hillclimb   Boise, Idaho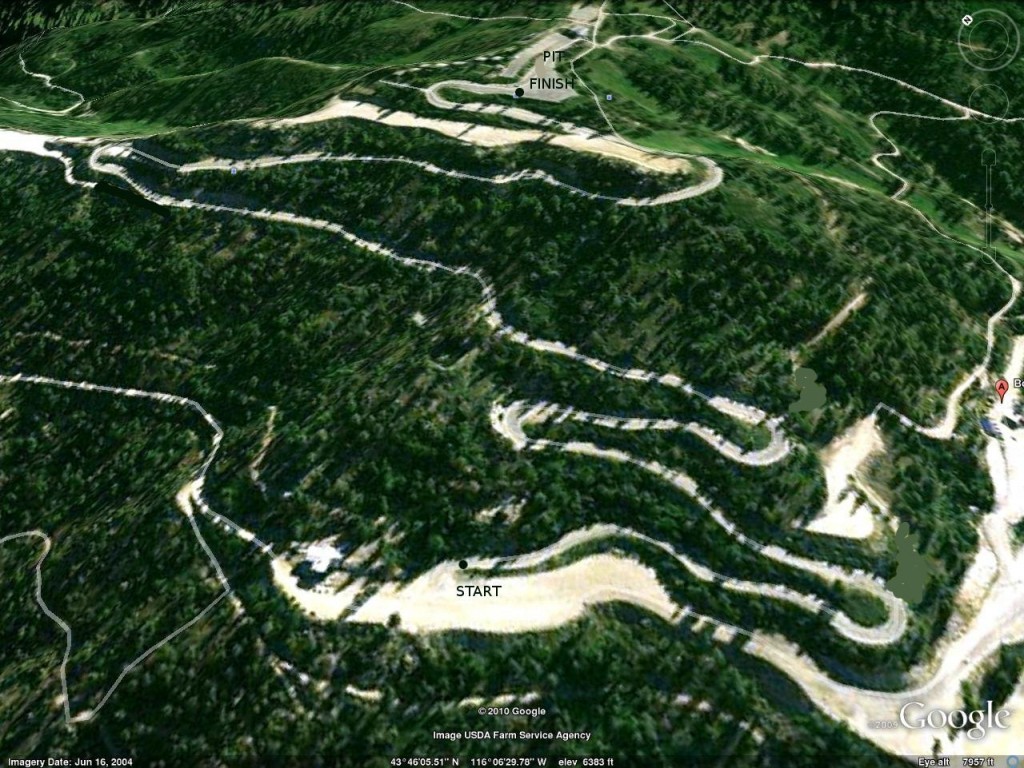 Bogus Basin has been run for over 25 years and it is managed by a local husband and wife team, Wilke and Marcy Myers. They supply the motor home for timing, handle marketing and event promotion and they run the event as well. The course is 1.86 miles long and the surface is smooth but it contains every kind of challenge a hillclimber could ask for. George told me "Several hairpins, high speed sweepers, heavy braking points, and good elevation change. The hill runs from 6000 feet to 7000 feet in elevation and is surrounded by some of the most beautiful national forest in the Rockies. Looking down on Boise, 4000 feet below the start and 16 miles away was quite a sight".
George arrived several days early and began scoping out the hill as he always does with a new hill, driving it again and again… walking every critical point by foot.  This time he drove it over 40 times in his Expedition and his motorcycle.  "After driving this car for 10 years, I know this car and where to brake and when to get on the throttle. I study the course until I know the ID marks that tell me where I can go flat out and key braking areas." George is always cautious with a new hill but an off or mechanical failure at this event would ruin the rest of his trip's plans. He classifies course surfaces using a combination of his driving the course in advance and how it feels on his shoes as he runs a foot over it. HE classified this particular course as High medium traction.
George worked with his engine builder to come up with the right jetting for his Rotax as he loses about 3% of its horsepower for every 1000 feet of altitude. That meant 60 less horsepower than he was used to and clutch adjustments were made to keep the correct power band. By the time race day came, George was prepared mentally and physically and the car was as close to right as he could predict for the course at Bogus Basin.
Saturday's race day brought sunny skies with 50 degrees in the morning and a high of 70. George was met cordially by many of the hillclimbers who admired his machine and wanted to see a "Special kind of Hillclimb Special" they had never seen before.  At this hillclimb, drivers are expected to coursework for half of the day which reduces operating costs and gives the drivers a chance to observe other drivers lines. If you worked Saturday morning and drove in the afternoon, you would switch and drive Sunday morning and work Sunday afternoon. Each of the 47 drivers received three run opportunities per day. In the morning run sessions, a driver in a Porsche Camen lost control and crashed but no injuries were sustained. George made his first run and he was pleased. He hit all his points, adhesion was good and he was pleased with the top speed of 102. The times were not posted so he began preparing for his second run.  On his second run, his drive belt failed about 3/4ths of the way up the hill. He had to be towed to the top and when he got out of the car he was congratulated by another driver for breaking the existing record on his first run by two seconds! The old record was set by Dwight Gilliams in 2002. In order to preserve the car and driver, George opted not to run again that weekend. Second place went to Bill Cooper in a race prepared Corvette.  Bill is a 30 year veteran driving instructor and pro-race driver and he impressed the spectators and  drivers with his runs. Event #1- King of the Hill and New Hill Record and car intact with new belt installed.  So far…so good.
2nd Stop : Pioneer Mountain :  Polaris, Montana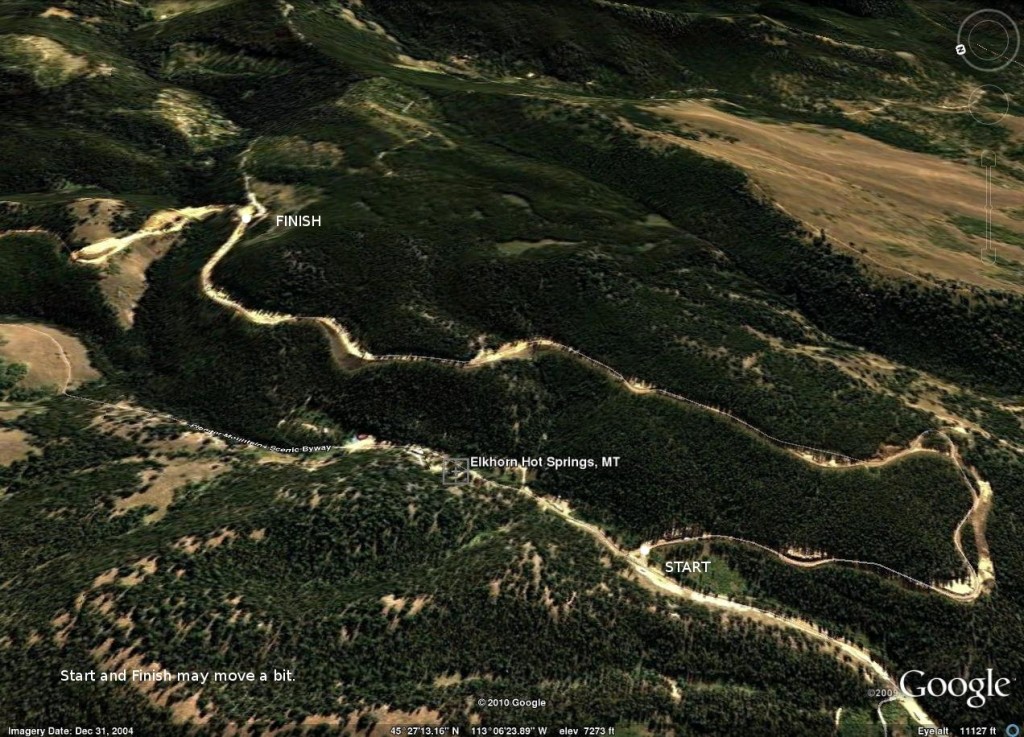 The first annual running of Pioneer Mountain Hillclimb turned out to be the opposite kind of surface in many respects to Bogus. There were no low speed sections and the state had chip and sealed the road eight weeks before the event.  This process involves laying down a layer of tar, covering that with a thin layer of pea gravel and then pressing it into to the tar with a heavy roller. This protects the road from winter deterioration but in this case, it caused a hillclimb nightmare. Every car that drove over this road pulled that gravel up and scattered it everywhere. The 2.5 mile course was more simple than Bogus Basin but George still did due diligence driving the course in his Expedition. The Thursday before the event began, it began snowing at the top and continued until it built a  2 inch blanket of white. The sun came out Friday morning and the hill dried quickly.
Saturday morning George woke up to 27 degrees but he was smiling as he was in the afternoon run group. He was also smiling because he remembered his long johns and overcoat. There are 11 workstations at Pioneer Mountain and they were manned by 22 local firemen so the drivers were always in line of sight for safety. Each station had a driver with them on the work/drive program which helped workers understand what was going on during the event.  He had installed a new belt to replace the other but it had not been broken in.  On his first run, a deer was spotted on course and George was red flagged back to the start. His second run went better except for the gravel and the low down force wing arrangement and re-clutching were not the answer to marbles on course. The top speed for that run was 110 but his average speed was 93 which should tell you just how fast he was going.  On one long sweeping 180 degree turn, he was able to hit 84 miles per hour. Your mental picture at this point should be George juggling chains saws while standing on alligators … and smiling. The gravel shattered both mirrors and did minor damage to the bodywork. After his run, he evaluated the Shark, damage to his body work and made the decision not to run again. As his closest competitor was 7 seconds behind, George weighed the risks and decided to save his car for the next hillclimb stop in Pennsylvania. It turned out to be a good decision as George had time to relax, get to know the other drivers and see his brother David win GTU class in his 1972 240Z. A number of the drivers struggled with the gravel and one Corvette had over a foot sandblasted behind each wheel.  A GT2 Porsche with fiberglass fenders had gravel penetrate each fender with cracks and stars. Forty one drivers made their runs without incident and the event ran far smoother than the surface. The drivers had a great time socializing at the Grasshopper Inn just a few miles from the event site.  George met a lot of great people including two cowboys with 200 head herd of cattle that were grazing on the hill a week before the event.  The hospitality was great and the food was incedible as a butcher a mile from the inn supplied sausage for breakfast and steaks for dinner. THIS is truly beef country!
When asked about making so few runs over those two events, George explained "I'm an old autocrosser and in autocross, you learn to get all you can out of car and course in a few runs.  It can be pretty intimidating to other drivers to go out on your first run and lay down a great time. With hillclimb you can have more runs but you have to weigh that against wear and tear on car and the inherent risk of running mountain roads. On a road course, you can push from 90% to 98 % and get those last tenth's of a second but you have wider surface and more run off room. I am driving my car at it's limit on my first or second run."  He was concerned that other drivers and spectators might be un-happy that he made so few runs but with only one drive belt and running that fast a time, it was the right decision. This is an event site George plans to return to as next year, the surface should be perfect as the asphalt has cured.
George's time stood as fastest of the weekend and placed him as King of the Hill for another mountain. Now on to Weatherly and his Pennslyvania  Hillclimb Association friends where  he has run before!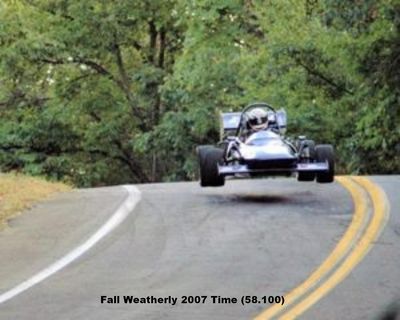 3rd and Final : Weatherly Hillclimb – Weatherly, PA
Each year, the PHA season starts and ends with the Weatherly Hillclimbs. These two events are held on the outskirts of Weatherly, PA where events have been run since 1960. This thriller 1 mile course consists of uphill straights leading into a series of hairpin turns, a stiff right turn and then you hit the "Jump"… called the jump because  most cars leave the pavement right there. The rest of the hill has a brief straight leading to a long sweeping turn to the finish. This course is an adrenalin rush from beginning to end.
Weatherly had great weather for this year's hillclimb and George was able to break Ron Moreck's  12 year old record there by 8/10ths of a second. He was driving at over 100 mph in three different spots on course. This was his sixth try at that record and made the trip home back to North Carolina a pleasure and a fitting end to a fantastic trip.
George picked up some interesting ideas running with the NHA out west. He is discussing several suggestions with SEDIV Time Trial Committee members including  a "Queen of the Hill" trophy. He was impressed with NHA safety concerns, instruction with novices, the work / drive program and event flow. He was greeted warmly by drivers, event managers and courseworkers and looks forward to seeing them all again. This whole trip reminded him of how much he loves the hillclimb community. "The guy with the high dollar race car and the guy who drove his car to the event… we all share the same bond and passion. "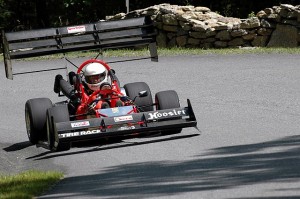 A trip of 8100 miles, three hillclimbs, three records and three King of the Hills. It's pretty obvious to those of us who know George… he's over the hill and picking up speed. If you think he going to start slowing down, guess again. Next year's trip may include two other NHA hillclimb events including Knox Mountain in British Columbia.  For 2012, a number of his friends are collecting donations to send George and the Shark to England for some of their hillclimbs which could create the greatest colonial uprising since…well, you know. Thanks for sharing your trip with us and continued successful  journeys  to our own King George!