Rising Star : Angelo Dinkov
I have had the pleasure of getting to know a lot of Clemson Sports Car Club Members as they made there way through college. The opportunity to autocross on campus, network with other car guys and become involved in motorsports at that age is a wonderful opportunity. For some, it begins a life long hobby of sports car fun and fellowship. For others like Angelo Dinkov, you can see it in their eyes … he's hungry. (Just look at that picture !)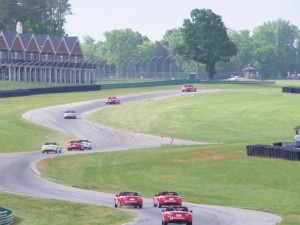 Angelo is hungry and driven to make it as a professional driver. His background as a financial advisor have helped him hone his business professional skills. Working with people to attain a common goal is what Angelo does every day, helping him translate that into his racing career. Angelo is actively seeking sponsors to make the step up into the pro racing arena. Along with being a fine driver, he's a great guy and one of our Southern Drivers that is on the way UP!
Birthplace : Bulgaria, Europe August 20th, 1985
Present Home : Currently Washington D.C.
Family/Pets : No pets. I live with my girlfriend, Laura Stubbs, who has been a HUGE supporter of my racing. She's with me at every race. My mother, Nina, lives in Greenville, SC has always been at my side and makes every event she can. Couldn't do it without them both!
Profession : Financial Advisor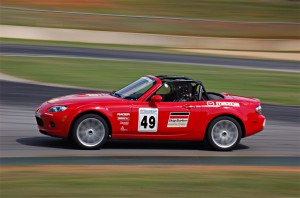 Cars Presently Owned : I drive other people's race cars but my street ride is a 97′ 1.8 Miata and I love to autocross it with CLEMSON SPORTS CAR CLUB when I'm in the area.
Favorite Past Car Owned : My 2nd Mustang; Rio Red 94′ Cobra. Head/Cam/Intake/Gear upgrade along with an exhaust tone that would make me smile every time I drove it. Was a perfect car for my years in college, but eventually it had to go.
Championships / Awards : Two 2nd place seasons in the Skip Barber Mazdaspeed Challenge….a spec MX5 cup series with the cars prepared similarly to the SCCA Pro Racing Playboy MX5 series. TWO 2nd Places! Story of my life but it's made me hungrier and a better driver for it.
Your favorite childhood memory involving cars: Coming from a family that has absolutely no interest, history, or background in cars/racing/motorsports, I had to find my own passion for it. It was always in my blood even as a small child in then-communist Bulgaria. Once, my grandparents lost sight of me and found me on a street corner just watching cars drive by. Strange right? Sometimes my father would make bets with people at the bus stop as we waited on how many cars I could name (make AND model) in a row when I was 5 years old. My family didn't get why I was so interested in cars. Bulgaria didn't have a motorsports community or much less any sports cars in the country back then. It was all Russian contraptions with a slew of German sedans thrown in. My parents thought it was a phase that would pass. But here I am today more immersed in the sport than ever.
What you enjoy most about motorsports: Racing is an interesting hybrid of a team sport as well as a compelling individual one. You rely on your team to give you a good car, good strategy, etc. but when you're out there its all you. I love the competition of it. It motivates me not only to be a better/faster driver but to also be a better person in my non-racing life. Without racing, I don't know what I would do for my motivation in life. It keeps me going. Love is a term thrown around a lot lately, but I have to say I really do love the sport with an almost obsessive passion.
Advice to up and coming drivers: Listen listen listen! Some people (myself included) are somewhat introverted and find it difficult to seek other people's advice. You'll learn a lot more and a lot faster from the guys that have been doing it a while longer than you have. Be open to criticisms and make sure to listen if they offer to help you. Also, if you're like me, you're going to race weekends to win, not just drive around. Preparation, exercise, both mental and physical, will pay dividends. Don't just go out there and wing it. Be a professional.
Favorite professional driver past or present : Geez I have SOOOO many. There are so many people past and present I look up to that have taught me something valuable about this sport. If I had to mention one that I really look up, to I'd have to say Graham Hill, 62′ and 68′ F1 Champion. The guy was the complete driver both on and off the track and was just a phenomenal person. To me, he epitomized the phrase "never quit."
Favorite road to drive : Don't really have a favorite road. hmmm. I guess the stretch along the San Diego beach.
Your future racing plans : 2011 NASA Nationals. I'd like to make the transition to Pro racing in the next year. Whether that's through Mazda's ladder system with the Playboy Shootout or securing the necessary sponsorship to go into a full Grand-Am season is my main focus.
Anything you'd like to share about yourself, motorsports or experiences : The economics of racing is an interesting concept. It takes a lot of sacrifice from the people that want to see you succeed both in time and resources to get you there. Never forget who helped you accomplish those goals.
Favorite story from your driving career :  I have a few good ones that are more recent, but I enjoy
remembering my roots at how I got started driving. Coming to Clemson University and entering my first ever competitive driving event with the Clemson Sports Car Club at their monthly autocross has stuck with me since the beginning. I can still remember turning the wheel on that weekend. I drove the club built 1st gen RX-7 "club car" that had something like 13 people driving it that weekend. I felt good behind the wheel for my first time, but didn't expect to win my class right off the bat. I was hooked after that and from that point forward became a student of the sport. I wouldn't have the car control skills I use in racing today if it wasn't for those 4 great years autocrossing at Clemson University.
I would invite any potential sponsors to contact Angelo at  Angelo@AngeloDinkovRacing.com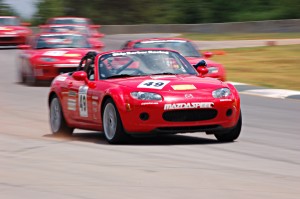 http://www.angelodinkovracing.com
Angelo has now moved over to SCCA and NASA club racing. He also drove in his first pro race weekend alongside the Playboy MX5 Cup at Homestead first week of March. It was a Grand Am weekend so huge audience with a lot of eyes watching. Angelo finished 3rd in a 3 wide photo finish. 3 cars separated by 0.1 seconds.
Lots of people dream of racing at the professional level but few ever reach that goal. Those that make it have a common trait… they are driven by a passion and willing to work hard and sacrifice to make it happen. Best of luck in your future racing endeavors Angelo! Great to see a Southern Driver doing well!